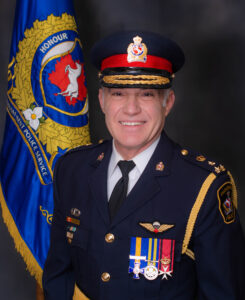 As Chief of Police for the Chatham-Kent Police Service, it is a pleasure to welcome you to our Chatham-Kent Police website. I trust that you will find the information contained on this site valuable and informative. We appreciate that keeping the public informed about police activities as well as recent news, special events, services and crime prevention techniques are all valuable tools which our citizens require. Our website will provide you all this up-to-date information and how we operate as a Police Service.
We are proud of our Police Service and its members, both sworn and civilian. Our Service adheres to a philosophy of Community Mobilization. We value our ability to connect with the citizens we serve by practicing this philosophy on a day to day basis. Our strategy promotes a holistic approach to public safety and well-being. The use of technology, prevention and collaborative efforts are necessary to assist in promoting community wellness and enhancing the quality of life for our citizens. Every time you visit our site, you will see officers from the different areas within our organization.
I invite you to spend some time to look around and navigate through our website. Please view our Photo Gallery to see a variety of photo albums, the CKPS Most Wanted, Crime Stoppers, Crime Plot and numerous other informative sections.
Our citizens play an important role in partnering with us to keep our community safe. We look forward to working with you, to improve our community and achieve our mission of making Chatham-Kent the safest community in Ontario!